Maid Cafe,has been gaining a tremendous popularity in Japan.At these cafe, waitresses are dressed as a "maid" and treat you as a "master". It's a role playing and purpose is to enjoy the situation. When a customer first comes into the cafe, they greet, "Welcome home, my master (or Madam depends on your sex)". They will pour tea for you, and play card game with you if you ask for. Many of these cafe are decorated like English mansion, which really makes you feel that you are the master of the house just like in animes.





RoyalMilk Aromacare & maidcafe

Opened in June 2005. This cafe has a relaxing atmosphere. Color of interior is all pink, and is clean and bright. At relaxation space, a customer can get aroma therapy care. There is a space where you can play card game with maid. You will have to make reservation in advance for the use of relaxation space.

2-10-21 Sotokanda
Nikka Sekiyu Building 2F
Chiyoda-Ku, Tokyo
TEL: 03-3253-7858
HOURS: 12:00-22:00
CLOSED: 2nd, 4th Wednesday
URL: http://r-milk.com/



They show profiles of each Maid +

Datenshi no Kyuujitu Little PSX

At this store, you can play games with maids. All you can drink for 30 minuets - 400 Yen, and all you can eat snacks for 1 hour - 600 Yen.
Games include UNO, Genga which you can do one on one with maid or with other customer. Price varies so check out their website.

3-10-3 Sotokanda Isamiya Daiichi Building 4F
Chiyoda-Ku, Tokyo
TEL: 03-5297-5475
HOURS: 12:00-22:00
CLOSED: Mon-Fri, Open only on weekend
URL: http://littlepsx.com/



CURE MAID CAFE

The first maid cafe opened in Akihabara in 2001. There is a garden on terrace which creates a relaxing atmosphere. Maid has a clean style, and they don't necessary talk like "~my master". The store provide casual atmosphere and this place is good for a "starter".

3-15-5 Sotokanda
Jisto Akiba 6F
Chiyoda-ku, Tokyo
TEL: 03-3258-3161
HOURS: 11:00-20:00 (Mon-Thursday) 11:00-22:00 (Fri-Sat) 11:00-19:00 (Sun, Holiday)
CLOSED: None
URL: http://www.curemaid.jp/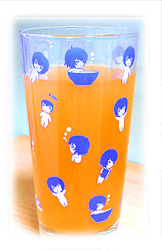 @Home Cafe

Located on main street of Akihabara. There is a counter where you can talk with maids, and tables where you can dine. Events are often held at this store. Maids are not necessary wearing a standard maid costume, but ware various types of cosplay costume. You can take picure with maid for 1000 Yen.

4-3-3 Sotokanda
Donkihote Akihabara 5F
Chiyoda-ku, Tokyo
TEL: 03-3254-7878
HOURS: 11:00-23:00(Counter) 12:00-22:00(Table)
CLOSED: None
URL: http://www.cafe-athome.com/




Taking pictures with maid event.
The counter.
They serve cute foods like these.


MOE~~!!